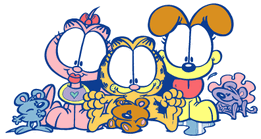 Welcome To Garfield Baby!
The Cute Starts Here!
Edit
Write an introduction to your topic here, to explain to your readers what your topic is all about!
To make the products more user-friendly Garfield, the United States BULATS PAWS designed a series of Baby Garfield, a more developed Garfield Baby ™ Brand. Let Garfield and all his buddies are back in a child wearing a diaper, adsorption fingers and holding bottle look.Garfield Baby ™ Has been a very successful used in all children's products on the ...
http://www.garfield-asia.com/Chinese-link/About/about-baby.htm

Once upon a time there was a big orange cat who kicked dogs, swigged coffee, and hogged up all the lasagna he could find. But before him came a kinder, gentler kitty – Garfield Baby. Here for the first time, Garfield Baby and all his cute friends: Odie, Arlene, Pooky, and Squeak and Squawk. Meijer stores has already had great success with their line of store-branded Garfield Baby ™diapers. We think they'll warm your heart tickle your funny bone and give you a whole new outlook on Garfield and his pals; both thematically and graphically. In fact, we think they're so doggone cute, we've designed a complete line of products, too, including Infant Clothing and Accessories, Infant Bedding, Plush and toys, Mobiles, Housewares and tableware, Diaper bags And Bibs, rattles, and grooming items

These Cuddly Critters are ready For Anything
(as soon as they have a nap and a snack!)
Baby Buddies- Garfield, Odie, Arlene, Pooky, Squeak And Squawk Will Warm Your Heart And Tickle Your Funny Bone.
Garfield BabyTM- The Cute starts here
Latest activity
Edit